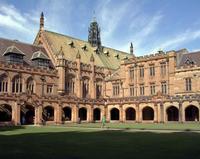 Take advantage of your chance to live and learn in one of the most beautiful and livable cities in the world—Sydney! Enjoy Sydney's comfortable climate, world-renowned beaches, and iconic spots around the city.?We want you to feel at home in Sydney, so we do everything we can to help you integrate into life in the?city. From housing to cultural events, our job is to make sure you have the most authentic study abroad?experience possible.?
This study abroad program in Sydney offers you the opportunity to directly enroll in the prestigious University of Sydney with access to a vast array of course offerings across hundreds of disciplines. You can also enroll in an internship, which includes time spent working at your placement in addition to an academic seminar that helps you contextualize what you're learning.
IES students will be directly enrolled at the University of Sydney, where you have the opportunity to study at a university that is consistently ranked as one of the top universities in the world. Founded in 1850, the University of Sydney is Australia's oldest university and one of the original?members of the prestigious Sandstones (similar to the United States' Ivy League). The energetic, diverse campus enrolls more than 50,000 students including 12,500 international students. As a large and well-established research institution, the University offers challenging coursework throughout the curriculum, and is internationally recognized for its research in Australian Studies through the Koori Centre and the AACSB- and EQUIS-accredited faculty of Business and Economics.
The Spring Semester on this program starts in February and ends in mid-June. The Fall Semester on this program typically starts in mid-July and ends in late November.

For more program information, please visit the
program website
. This program is sponsored by:
IES
.