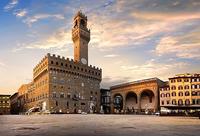 ATTENTION: CIEE will be providing an automatic Trailblazer travel grant toward airfare expenses of up to $1,500 to any Purdue student who participates in this spring or fall 2024 program!

Home to a treasure trove of Renaissance jewels and a rich cultural heritage, Florence is considered the birthplace of the Renaissance and is rooted in artistic tradition. The city's historic and artistic richness makes Florence an appealing choice for study abroad students from all backgrounds. From its renowned art galleries and museums, such as the Uffizi Gallery, to its unrivaled architecture, like the Duomo, Florence is a student-friendly city boasting endless opportunities to immerse yourself in the local language and culture.

When you study abroad in Florence, you'll call central Italy home. Here, in the capital of Italy's Tuscany region, you'll enjoy views of stunning rolling hills, explore farms and vineyards, appreciate timeless art by the likes of Michaelangelo and Leonardo da Vinci, and enjoy the local rustic Tuscan cuisine. With mesmerizing views at every turn, your time studying abroad in Florence will be nothing short of spectacular!

For more program information, please visit the
program website
. This program is sponsored by:
CIEE
.