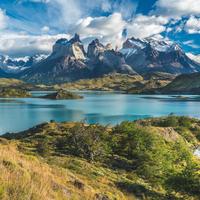 Experience the unique environments and biodiversity of Southern Patagonia and Antarctica and examine the conservation challenges posed by the impacts of climate change and human behavior. From your home base in Ushuaia, the southernmost city in the world, you'll discover the economic and environmental importance of this region. Learn how to apply scientific research tools and methods as you examine how climate change affects the region's marine biodiversity.
Through site visits to the Beagle Channel, Tierra del Fuego National Park, northern Tierra del Fuego, including Chile, you'll see southern Patagonia's biodiversity, ecology, and conservation issues firsthand. You will also learn about scientific research methods and environmental monitoring systems as well as the complexities of managing shared natural resources.
With the knowledge and content learned during the program, you will explore the last pristine region of the world on a 10-day expedition to the Antarctic Peninsula with guided landings and zodiac cruises.
For more program information, please visit the
program website
. This program is sponsored by:
SIT
.