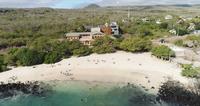 IES organizes this program through the Galápagos Academic Institute for the Arts and Sciences (GAIAS), a remote campus of the Universidad San Francisco de Quito (USFQ) located on the island of San Cristóbal.
Fast paced and as rewarding as it is challenging, this program is great for students interested in conducting field research or going on to graduate school. Think of the ideal candidate as a streetwise Indiana Jones—that is, one who would happily trade indoor luxury for adventurous experiences, plenty of sun, and the open ocean air.
Imagine yourself exploring the Galápagos islands as part of your classes. Swimming with sea lions, snorkeling, and getting to know the local culture are just a few of the amazing students get to have each semester.
Located on the island of San Cristobal, the USFQ Galápagos campus offers international students the opportunity to study in one of the most pristine natural laboratories in the world.
This program begins in Quito, Ecuador, and the travels to the Galápagos for the remainder of the program.
For more program information, please visit the
program website
. This program is sponsored by:
IES
.