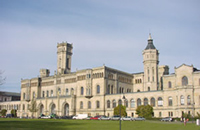 University: Founded in 1831, Leibniz University Hannover has an enrollment of about 21,000 students. The nine faculties include architecture, education, engineering, horticulture, humanities, management, science, and social sciences.
Location: Hannover is the capital of Niedersachsen, a state in north-central Germany. The city has a population of just over 600,000 and consists of a combination of 11th-century half-timbered structures, 19th-century palaces, and striking modern architecture.

German Language Skills: Courses at the undergraduate level are taught in German. To be successful, liberal arts participants in this exchange program should have completed a minimum of five semesters of college-level German and are required to attend the month-long intensive language program prior of the start of the semester. Purdue students in engineering and science may be able to take beginning master's level courses which are taught in English.
For more program information, please visit the
program website
.