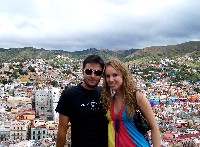 Of all the countries in Latin America, Mexico welcomes the most number of international exchange students in study abroad programs every year. The Instituto Tecnologico de Estudios Superiores de Monterrey, commonly known as Tec de Monterrey, or the Tec, was founded in 1943 by a group of entrepreneurs headed by Don Eugenio Garza Sada. Seeking to educate professionals and equip them with the skills needed to succeed in the business world, Tec de Monterrey has developed into an institution recognized, nationally and internationally, for its academic excellence.

A private non-profit nationwide university system, Tec de Monterrey is comprised of 29 campuses spread throughout 26 Mexican cities. The international study abroad program is only available on eight campuses, including Queretaro.

Queretaro is a great campus to consider if you're interested in travel. Located in the heart of Mexico, it is easy to travel to nearby or far away destinations from this central spot. Although Querétaro is one of the smaller states, its capital offers a surprising range of activities, from the golf and riding clubs on its outskirts to Fray Junípero's mission in the Sierra Gorda; from relaxing spas to mountaineering excusions, from the San Joaquín forest to La Huasteca in Jalpan, which can take anything from a few hours to a few days. But however visitors choose to spend their time in Querétaro, they always feel that their stay was well worth it.

The city was founded in 1531 as an Indian town as a result of an alliance between Hernán Bocanegra and the Otomí chief Conin, baptized as Fernando de Tapia, who helped combat the Chichimecs that lived in the region, although the rebellions continued until 1590. During the following centuries, the state became the third largest in the kingdom, while its elite played a key role in the Independence. In 1847, it became the capital of the region and twenty years later, it was the site of the decisive battle between the forces of the Republic and the empire of Maximilian who was shot on June 19 on the Cerro de las Campanas. In 1917, Mexico's current Constitution was drafted and signed in Querétaro.

The work of all these centuries is reflected in Querétaro's numerous churches, monasteries and other constructions. One of the cleanest and safest cities in Latin America, Queretaro's charm invites you admire restored old buildings and impeccable squares.
For more program information, please visit the
program website
.