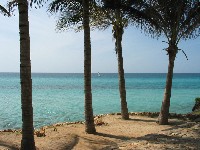 Make history with us as we experience changes daily on this exciting semester program! You will be able to study at one of the most prestigious universities in Latin America, and will spend a long weekend living in an intentional community hours from Havana. Learn, explore, dance, play ball, and make friends while you are part of something few Americans will ever experience.

Study at Universidad de La Habana - the largest and oldest university in Cuba, which attracts students from throughout Latin America and around the world. Located next to the heart of Havana's historic district, UH offers a unique opportunity for the adventurous and flexible student. You'll take integrated classes with Cuban students in a variety of disciplines.
The fall semester runs from late August to mid-December. The spring semester runs from mid-February to early June.

For more program information, please visit the
program website
. This program is sponsored by:
IFSA-Butler
.