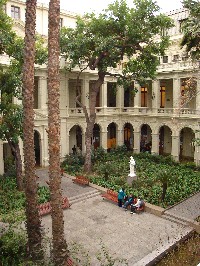 Study in Chile's vibrant capital city, which was named top country in Lonely Planet's 2018 Best in Travel awards. You'll be able to mix-and-match classes from among Latin America's top universities for business, history, sociology (and more) during the day, while taking in a vibrant, modern art scence by night. Want to be part of the cafe culture while working on research? You'll find yourself at home in Santiago!

A semester in Chile provides a wonderful chance to see the remnants of the ancient Inca Empire and the continued influence of the Mapuche people, especially in the foothills of the mountains and in the southern plains. Chile's people are warm and welcoming.
Santiago's attractions include the colorful Mercado Central, the historical center of Plaza de Armas, the pedestrian mall of Paseo Ahumada, and the late-colonial and block-filling Palacio de La Moneda - former mint, presidential residence and the site of Allende's last stand. Chile's many national parks are home to a variety of unusual animals, including the protected vicuña, flamingos, pelicans, otters, and sea lions. The southern tip of Chile even plays host to large colonies of penguins.
The approximate dates for this program are Feb.-July or July-Dec.


For more program information, please visit the
program website
. This program is sponsored by:
IFSA-Butler
.