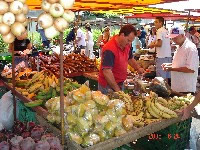 Costa Rica has long been popular with study abroad students thanks to its outstanding natural beauty, high literacy rates, efficient infrastructure and services, and political stability. The friendliness of the Costa Rican people and the clarity of their accent make this lovely country a particularly good place to explore a Spanish-speaking society.
Costa Rica covers only 0.03% of the surface of the earth, yet has approximately 6% of the world's biodiversity. Packed into this small country is an amazing variety of flora and fauna in an equally impressive array of landscapes - mountain valleys, mangrove forests, and massive volcanoes draped with lush forests and topped with desolate craters.

Heredia, the program site, is a city of 35,000 people located six miles north of the capital San José. The city and its surrounding areas provide all the conveniences of a medium-sized town. The city has a youthful and active feel due to the presence of the many young Costa Ricans attending the local university. Heredia is known as 'the city of flowers' because of its beautiful parks and mild climate.

The Universidad Nacional Cost Rica (UNA) was established in 1973 to meet the changing needs of a growing nation. With nearly 15,000 students, this public university offers a full curriculum of undergraduate and graduate-level courses. Students at UNA enjoy a number of artistic and athletic student groups, with extensive opportunities to get involved on campus. All program participants may use a health center located on campus.

The approximate program dates are late Jul.-late Nov. for the fall term or late Feb.- late Jun for the spring term.

For more program information, please visit the
program website
. This program is sponsored by:
IFSA-Butler
.