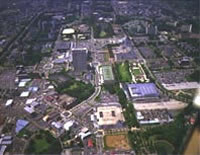 The University of Tsukuba has approximately 4000 faculty and staff, and an enrollment of about 10,000 undergraduates and 5,000 graduate students. Since its establishment in 1973, the university has been particularly interested in the international academic community with a special focus on the frequent exchange of professors, researchers, and students.
Tsukuba Science City is a research and education complex within Tsukuba city. It was developed with the goal of establishing a top-notch science complex, away from the overpopulated Tokyo area, in a place that is conducive to research and collaboration projects among various educational and research institutes. Currently, there are 48 national research and educational institutes and more than 200 private research and development institutes comprising Tsukuba Science City.

Tsukuba Science City is only a 60-minute bus ride from central Tokyo, yet the area surrounding the Science City is essentially rural with many of the residents maintaining the traditional Japanese lifestyles and culture. Thus, the urban part and the rural areas co-exist, making the University of Tsukuba an ideal place to study the contrast of Japanese tradition and modern science and technology.
For more program information, please visit the
program website
.