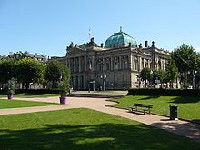 Université de Strasbourg (UdS): The university is the largest in France with 43,000 students. Because Strasbourg alternated between German and French control starting in the 16th century, UdS traces its history to a German university founded in 1621. In 1970 the university was subdivided into three separate French universities, but these were reunited in 2009.
Location: Strasbourg is the capital and principal city of the Alsace region of eastern France. The metropolitan area has a population of about 600,000, and is an important center of manufacturing and engineering, as well as of road, rail and river communications. It is the seat of the Council of Europe, the European Court of Human Rights and the European Parliament.
Language Ability: A minimum of six semesters of college-level French is required; additional language study is recommended. Applicants for this exchange program will not be approved for participation until the results of a language interview have been reported to the Study Abroad Office.
For more program information, please visit the
program website
.