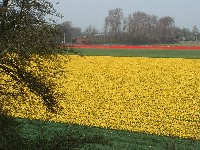 University: Founded in 1575, Leiden University has been a respected, internationally-oriented university for over four centuries. Leiden's special program in public policy and public administration is geared specifically toward international students and is especially attractive to political science majors.
Life in Leiden is greatly influenced by the relatively large number of students, as most of them both live and study in the historic town of Leiden. It is very easy to run into someone you know when you go shopping or when you go out at night. Since Leiden is a small town, all the university buildings are within walking or cycling distance. Students tend to feel at home quickly because of the safe environment and the individual approach.
Location: Leiden is located just eight miles east from the North Sea coast between the cities of Amsterdam, The Hague, Rotterdam, and Utrecht. It is a picturesque town with about 114,000 inhabitants. Public transportation is excellent - The Hague can be reached by train in 12 minutes, Schiphol Airport in 20 and Amsterdam in 45. The country's position at the crossroads of Europe facilitates travel to France, Belgium, Germany, and Britain.
For more program information, please visit the
program website
.