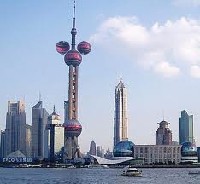 Founded in 1896, Shanghai Jiao Tong University is one of the most prestigious universities in China. The main language of instruction is Mandarin, although a few undergraduate and postgraduate courses are taught in English and joint-run with English and American universities. The university has made significant contributions to the prosperity of China and the development of science and technology in the entire nation.
Today, SJTU has more than 60 undergraduate programs covering nine major disciplines - economics, law, literature, science, engineering, agriculture, medicine, management and arts. Its total enrollment of students is about 41,000, of which nearly 3000 are international students. On research, the university is widely seen as one of China's best performing institutions, winning the most amount of money from the National Natural Science Foundation of China, for six years in a row up to 2015
The largest city in China, Shanghai is also its most cosmopolitan, offering visitors a chance to experience the past, present, and future all at once. The city is one of China's most open cities ideologically, socially, culturally and economically. The Huangpu River splits Shanghai into two districts: Pudong and Puxi. The Pudong skyline looks like it was ripped from the Jetsons, with the bulbous Oriental Pearl TV and Radio Tower looking a bit like a two headed lollipop. On the Puxi side, you can walk the Bund riverside district to get a taste of old Shanghai.
This program is for Engineering majors except those majoring in ME, IE, BME and ECE. Students in these majors must apply to the LEAP-SJTU program. GEARE students should apply to the GEARE-SJTU program.
For more program information, please visit the
program website
.