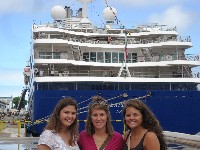 Ever wonder what it'd be like to sail around the world and visit cities on nearly every continent?
Semester at Sea provides study abroad opportunities for the exploration and study of many of the people, places and cultures around the world. The shipboard curriculum provides you with a series of insights into various cultures and societies and allows you to dissect and assess what you observe. Not only will you develop the ability to understand new cultures as they are encountered, but you will also gain the intellectual tools that will allow you to relate past experiences to future situations. Similarly, you are called upon to examine the crisis issues of global concern, such as those relating to environment, population, foreign policy interrelationships and economics, in the context of the nations visited. The ship truly becomes a campus on which you will work in a traditional classroom setting, and the world a laboratory from which approximately 20% of the credit earned for a course is fulfilled. The integration of classroom and international fieldwork enables Semester at Sea to provide a learning environment unattainable on a traditional land campus.
The exact itinerary changes every semester. For more program information, please visit the
program website
. This program is sponsored by:
Semester at Sea
.