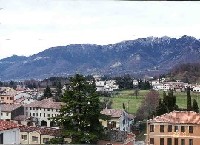 Looking for a program that's a little shorter? CIMBA may be the right choice for you!
This four-week summer program allows students to take two classes and earn six credits, while living and studying on a picturesque Italian campus. Imagine looking out your dorm window to see the Italian Alps in the distance, and being just 35 miles from one of Italy's most-famous cities - Venice.
Enjoy the atmosphere of living in a small Italian town, where life is slow and you don't have to worry about hoards of tourists or pick pockets. However, you'll still have easy access to Italy's larger cities and with two long weekends, plenty of time to explore!

The CIMBA Italy summer program consists of students enrolling in two 3-credit courses delivered in English. Courses are designed to satisfy core or elective requirements and are international in flavor.
CIMBA is located in the northeastern Italian town of Paderno del Grappa. The CIMBA academic programs are designed to provide students with the foundation to thrive in a global business environment. Students will go beyond theory and practice. They will gain real-world views from prominent guest speakers, knowledgeable faculty who have lived and worked around the world, and company tours of multinational corporations and small Italian businesses. Students can immerse themselves in a host of cultural and historical activities on and near campus and throughout Italy and Europe—as part of CIMBA's comprehensive Cultural Exploration Program.
For more program information, please visit the
program website
. This program is sponsored by:
CIMBA
.