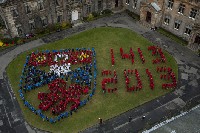 St Andrews is Scotland's first university and the third oldest in the English-speaking world, founded in 1413. Over six centuries it has established a reputation as one of Europe's leading and most distinctive centers for teaching and research.
The university is particularly well-known for its humanities curriculum, with the departments of art history, English literature and language, classics, religious studies, anthropology, politics and international studies, history and philosophy offering courses of note. It's not shabby in the sciences either. According to the Sunday Times, St Andrews is 'Firmly established as the leading multi-faculty alternative to Oxford and Cambridge.'

For more program information, please visit the
program website
.