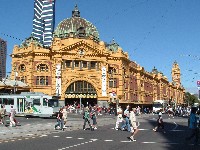 Monash University has a dynamic multicultural community serving more than 36,000 students. In just over thirty years, Monash has achieved an international reputation for its teaching and research excellence.
Monash is a large and diverse multi-campus university. There are two urban campuses (Clayton and Caulfield), a sea-side suburban campus (Peninsula), and a rural campus (Gippsland). Each campus offers unique attractions and students may choose to study at any of them depending upon their course schedule.
With a population of about four million people, Melbourne is the largest city in the province of Victoria. Renowned as the gourmet, cultural, and sports capital of Australia, it is perhaps the most cosmopolitan of Australia's cities. It boasts a vast array of restaurants, theaters, art galleries, sporting venues, and nightclubs. In addition, Melbourne has been voted one of the world's most livable cities.
For more program information, please visit the
program website
.