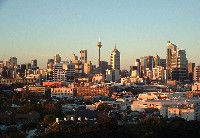 The University of New South Wales (UNSW) is one of Australia's great universities. Founded in 1949 with only 46 students, UNSW now has over 20,000 students on its three campuses - Kensington, St. George, and the College of Fine Arts in Sydney. UNSW has a reputation not only for innovative work in established disciplines, but also for introducing many new courses.
The main university campus is in Kensington, a suburb of Sydney about 20 minutes by bus from the main central railway station and 30 minutes from the harbor and ferry terminals. It is close to shopping areas, restaurants, beaches and parklands.

UNSW is a modern, urban university with extensive sporting and recreational activities to complement its reputation for scholarship and research. There are over one hundred clubs and societies on campus covering interests in the sporting, cultural, social, religious, hobby, and intellectual fields.

The University's host city, Sydney, is the largest, oldest, and perhaps the most beautifully situated city in Australia. It is the capital of the state of New South Wales. With a population of about four million, it is an exciting cosmopolitan center that offers tremendous opportunities for entertainment, shopping, and sightseeing.
For more program information, please visit the
program website
.