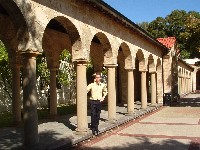 The University of Western Australia (UWA) is the oldest and one of the most prestigious universities in Western Australia. Since its founding in 1911, UWA has become an institution of international stature, providing an environment for intellectual challenge and personal enrichment. The UWA campus is among the most beautiful in the country. It is bordered by the majestic Swan River. In addition to its lovely gardens and architechture, the campus is the center of many intellectual and cultural activities.
Perth, the capital of Western Australia, is the third largest city in Australia. Students find that public transport facilities very efficient which makes commuting by bus or train a viable option. Due to its Mediterranean-style climate, Perth is nationally recognized as the sunniest capital city in Australia. In fact, the city averages eight hours of sunshine each day throughout the year. Residents enjoy warm, dry summers (December to February) and mild winters (June to August).
For more program information, please visit the
program website
.