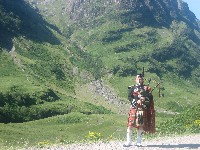 Strathclyde Business School has earned a reputation for innovation in business and management education. With over 2,000 undergraduates, 2,400 graduate students and 170 faculty, the school enjoys AASCB, AMBA and EQUIS accreditation and has one of the largest marketing departments in the UK. The Scottish Hotel School is the only hotel school to be fully integrated into a British business school.
Glasgow is the largest city in Scotland with a population of about 620,000. Home to three major universities, the city is a premier location for business, tourism and cultural organizations.
For more program information, please visit the
program website
.