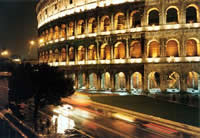 It is impossible to avoid the past in Rome. It eagerly waits for you around every corner, hoping to intrigue you with a worn-down step, surprise you with an unexpected fountain, or inspire you with ancient architecture. Come study Rome's unmatched historic and artistic past while simultaneously learning about its modern role in international politics and business.
This program offers you the unique opportunity to craft your own academic experience as you pick and choose courses from across all of our program offerings in Rome—from Art History and Film to Education and Business. An Italian language course at your proficiency level rounds out your course load in Rome, and gives you the skills you need to navigate this city with ease.
Rome will be your classroom. Can you imagine places like the Vatican, the Pantheon, the Forum, or the Colosseum being part of your education? Our courses are experiential in nature, and we organize more than 150 course-related trips each semester to historic, artistic, and cultural sites that take advantage of the city's many opportunities.
Craving immersion into the collegiate experience in Italy? Opt to take an English- or Italian-taught course at one of our partner universities, where you can learn alongside local and international students in an Italian university setting. Our three partners are some of the top universities in Rome, offering courses in the Humanities, Fine Arts, and Fashion.
Add international work experience to your résumé with a part-time internship in your field of choice or a community-based learning/social action placement where you can give back to this incredible city that will give so much to you. Either option gives you hands-on experience and comes with a credit-bearing seminar that provides a chance to reflect upon and gain context about your placement.
IES-Rome has several program tracks to pick from, offering slightly different classes and experiences:

This page is mainly referring to the standard IES Rome Language & Area Studies program. Students wishing to participate in IES' other options in Rome should check the IES web-site for any varying dates, fees, and application deadlines and speak to their study abroad advisor.
For more program information, please visit the
program website
. This program is sponsored by:
IES
.