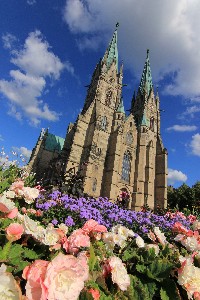 The Royal Institute of Technology (KTH) is the largest and oldest institution for engineering education and technical research in Sweden with roots going back to the beginning of the 19th century. The academic program covers a wide spectrum of subjects from natural sciences to all areas of technology for about 14,500 students.
Stockholm is considered one of the most beautiful capitals in the world. Nicknamed the "Venice of the North," Stockholm is located upon 14 islands between two waters, Lake Malaren and the Baltic Sea. Stockholm was founded in 1252 and is an extraordinary city with a unique composure of old and new. A walk in the Old Town takes one back in time with its narrow streets and secluded restaurants down in the vaulted cellars of the buildings, some of which date back to the 15th century. Sweden is located between the Baltic and North Seas and is the fourth largest country in Europe. Nearly 100,000 lakes are connected in a lacework of waterways, and many large rivers flow from the northwestern mountains through the forest to the sea. Due to the warm Gulf Stream in the Atlantic, Sweden has a rather mild climate considering its location.
A NOTE TO FALL SEMESTER APPLICANTS: The fall semester at KTH ends in early January with final exams taking place in mid-January. The school will make special arrangements for students who have to leave in December. Please speak to a Study Abroad advisor about these accommodations before you apply.
For more program information, please visit the
program website
.