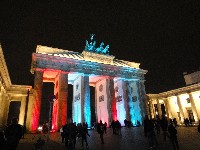 A center of modern European history, Berlin has no equal for leaving its imprint on political, social, and cultural history in the 20th century. One of Europe's most vibrant cities, Berlin boasts a wide array of museums, art galleries, theaters, and music venues, as well as world-class architecture and a reputation for cutting-edge design. A center of German and international business, politics, and culture, and an ideological crossroads where East meets West, Berlin is the driving force for Germany in the 21st century.
There are two summer program options in Berlin:
Language & Culture: This program combines the development of language skills with English- and German-taught courses that expose students to Germany's fascinating history and present-day culture and society.

Metropolitan & Urban Studies: This English-taught program explores topics in Urban Studies, Architecture, and Environmental Studies in Berlin, a city that has both rebuilt and redesigned itself over the past century.

For more program information, please visit the
program website
. This program is sponsored by:
IES
.