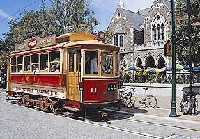 The IES Christchurch program offers direct enrollment at the University of Canterbury, an institution of 12,500 students.

Christchurch is one of the oldest and most European cities in New Zealand. Located in the heart of the spectacular beauty of the South Island, Christchurch, known as the Garden City, is ideally situated to explore the rugged Southern Alps, the fjords, and the miles of endless coastline.

IES Christchurch sponsors field trips that give students a unique opportunity to enrich their classroom learning.

The University of Canterbury and IES also offer optional field trips to other parts of New Zealand (such as the Southern Alps and Wellington) at a reasonable cost, and routinely hosts cultural events and guest lectures for the general student body and for individual courses.
For more program information, please visit the
program website
. This program is sponsored by:
IES
.