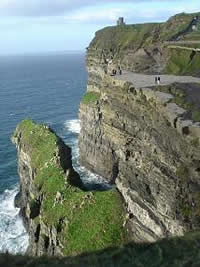 University College Cork offers the best of traditional scholarship and cutting-edge technology in a beautiful, friendly city. The people of Cork are notoriously hospitable and talkative, and you'll find that carries over into the welcoming nature of the university. Join one of the more than 100 clubs and societies on campus to meet your fellow students and get a feel for the social life on this campus of 12,000.
The university is a great place to study Irish culture, especially in the special Celtic civilization courses developed for visiting students during the fall pre-sessions. Early-start fall semester options include archaeology, literature in Ireland, history and modern Ireland, and Irish ecosystems. Full-year students can earn a certificate in Irish studies.

You'll live in modern student flats in Cork. Since the city spans the River Lee, you'll cross bridges to arrive at the beautiful wooded campus, which boasts restaurants, banks, bars, a sports complex, and outdoor playing fields. Music is a big part of the life of the university, so check out the Irish Traditional Music Society, the UCC choir, orchestra, or choral society, or just enjoy the lunchtime and evening concerts.
Program dates in the spring semester run from early January to Mid-May. In the fall, from early September to Mid-December.

For more program information, please visit the
program website
. This program is sponsored by:
IFSA-Butler
.