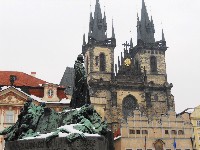 ATTENTION: CIEE will provide an automatic Trailblazer travel grant toward airfare expenses of up to $1,000 to any Purdue student who participates in the spring 2024 Business, Arts, and Sciences program!

Explore the history and culture of this dynamic Central European nation through courses taught in English at CIEE Prague, as well as at CIEE Prague partner schools, Charles University and the Academy of Performing Arts (FAMU). Choose from a wide array of courses in politics, history, media, art, religion and literature that are complemented with co-curricular activities or excursions to enhance classroom learning and provide intercultural understanding.
Looking for more? Sign up for an optional internship! Gain hands-on work experience in a local organization and gain real-world professional skills.

CIEE Prague is designed for students interested in the politics, social structures and economies of Central European states, especially their transformations from state-controlled to market-based systems. Participants can choose from a broad range of courses, participate in several excursions throughout the region and volunteer as ESL instructors.
CIEE offers three program options in Prague:
For more program information, please visit the
program sponsor's website
(CIEE).