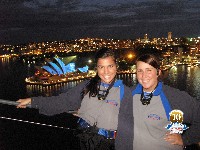 For more information or for questions email Chelsey Mullins, mullins4@purdue.edu
Click here to see FAQs about this program.
Click here to view a recorded callout for this program.

Please note that the dates listed above are the DEPARTURE dates. You need to arrive in Sydney on Thursday, May 16, 2024. If you arrive in Sydney before that, you will need to arrange for a hotel room.
Sydney is one of the most exciting cities in the world, an invigorating multi-cultural metropolis which blends an intoxicating contemporary energy with a fascinating history and a stunning natural site. Purdue's summer program will be located at CAPA's Sydney Center, which is located in the Ultimo neighborhood, a trendy and popular urban residential area.
The Sydney Internship Program combines a three-credit unpaid internship with a three-credit academic course over a seven-week period. The Sydney program is designed to allow students to study and work in an international setting while developing an appreciation for Australian culture.

Students from the following colleges/schools/departments/programs are eligible to participate:
College of Agriculture:
Agricultural Economics
Agricultural Sciences Education and Communication

(AgComm only)
College of Health & Human Sciences:
Nutrition Science
Hospitality and Tourism Management (includes CSR majors)

Human Development and Family Studies
Health and Kinesiology
Psychological Sciences

Public Health

College of Liberal Arts:
Communication
English
Film and Video Studies
History
Political Science
Sociology
Anthropology
Visual and Performing Arts (Art & Design and Theater)
College of Science:
Biological Sciences

Chemistry
Computer Science
Statistics
Entrepreneurship & Innovation Program
Certificate in Entrepreneurship & Innovation
Polytechnic Institute:
Computer Graphics Technology
Engineering Technology (MET only)
Technology Leadership & Innovation (HRD & OLS)

School of Management:
YOU MUST BE IN A MAJOR FROM ONE OF THE ABOVE DEPARTMENTS, and you must complete an internship within your major, not minor, to participate in this program!