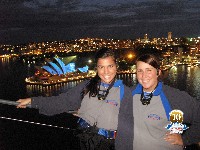 Want more information or have questions? Contact Chelsey Mullins at mullins4@purdue.edu
Click here to view a recording from the callout!

Please note that the dates listed above are the DEPARTURE dates. You need to arrive in Sydney on Thursday, May 16, 2024. If you arrive in Sydney before that, you will need to arrange for a hotel room.
Want to visit the land down under in Purdue's summer term? Look no further! Sydney is one of the most exciting cities in the world, an invigorating multicultural metropolis which blends an intoxicating contemporary energy with a fascinating history and a stunning natural site. Purdue's summer program will be located at the CAPA's Sydney Center, which is located in a trendy and popular urban residential area.
Students will earn six credits by taking two classes that are designed to help students gain intercultural competence and learn more about the city they're living in. The class schedule is arranged so that students typically have one to two free days per week, plus the weekends to explore Sydney and surrounding areas. With plenty of time to explore, and so many things to do and see - you can make this program your own adventure! Take the ferry to the Targona Zoo, watch surfers (or join in) at Bondi Beach, take a walk along a coastal trail, explore the CBD (central business district), enjoy a show at the Opera House, or even climb the Sydney Harbour Bridge - all while using your included public transportation pass to utilize Sydney's clean and easy-to-use public transportation system. There is no shortage of activities to do, no matter what your interests are.
This program is open to ALL majors.