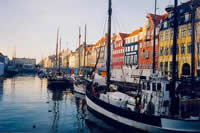 Copenhagen, the capital of Denmark, has a rich history influenced by more than 800 years of Danish settlement. Copenhagen is rare in that it combines the economic, scientific, and cultural life of a modern city with a relaxed, small town atmosphere.
Copenhagen is the seat of Danish Parliament, the central government, international, organizations, research libraries, national museums of art and history, and the national media. It is the center of musical and cultural life. Students may take advantage of the city's superior transportation system to get around town. Trains and buses run day and night.
DIS administrative and classroom buildings are located in the heart of Medieval Copenhagen. Facilities include but are not limited to a reference and student library, student lounges, computer labs, a student information desk, and student support services.
The programs within Social Science are:
History
Literature

Justice & Human Rights
Philosophy
Prostitution & the Sex Trade
Sociology
Urban Studies
Communication
European Politics
Global Economics
The overall DIS program fee includes one 3 or 4-day and one 7-day course-specific study tour. The precise destination depends on the exact DIS core class and semester of participation, but they are typically to nearby Scandinavian and European countries.

For more program information, please visit the
program website
. This program is sponsored by:
DIS
.