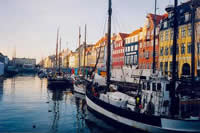 Founded in 1167, Copenhagen, the capital of a modern, affluent, democratic society, is a study in contrasts:
A sparkling European metropolis of one-and-a-half million people offering an abundance of culture and entertainment, yet projecting an inviting small-town atmosphere of friendliness, intimacy, and safety
A network of walking streets, plazas, parks and canals combined with an extensive, clean, safe and dependable public transportation system
A university dating from 1479, yet a modern educational center with several universities and colleges, lots of students, and a vibrant youth culture
A big city with a low crime rate, where personal safety is high compared to many other cities.
The International Business & Economics program is designed for students majoring in business, economics, or related fields. It offers several programs (choose one):
Global Economics

International Business


Innovation & Entrepreneurship

Study Tours
DIS places strong emphasis on combining classroom work with experiential learning so that students walk away with applicable, real life, cross-cultural skills for the global job market. Study tours are included into the program fee.
For more program information, please visit the
program website
. This program is sponsored by:
DIS
.