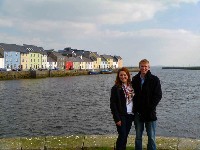 TU Dublin (formerly Dublin Institute of Technology or DIT) is Ireland's first Technological University, is where career-focused students, dedicated staff and academic excellence in science, the arts, business, engineering and technology converge to create the leaders of tomorrow. Over 28,000 students learn in a practice-based environment informed by the latest research and enabled by technological advances.
Dublin, Ireland's capital, has a population of over one million. Dublin successfully combines its vibrant history with a modern city that is simply a great place to live and study.
For more program information, please visit the
program website
.