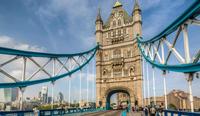 An urban adventure awaits you in London, one of the largest and most fascinating cities in Europe that almost nine million people call home. Our program offers you hands-on education in this iconic city—think: the Shard, Buckingham Palace, and Camden Market.
The goal of our program is to help you explore contemporary London and gain a deeper knowledge of British culture, including the central importance of history to the British. Explore the global impact of Britain on Western culture, including art, literature, and financial and political systems.
London's international character is evident in every neighborhood, where people of different cultural, ethnic, and socio-economic backgrounds live and work together. This diversity is remaking London, bringing a new energy to its business, arts, and sense of heritage.

Students can choose between two options:
For more program information, please visit the
program website
. This program is sponsored by:
IES
.