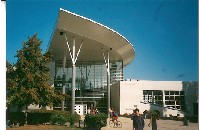 Are you looking for a study abroad experience that takes you out of your comfort zone? Are you hoping to embrace an alternative way of living and learning: from the challenge of adapting to a foreign environment to the personal growth that goes with?
If so, the CIEE immersion program in Rennes is perfect for you. Experience a region of France that defies French stereotypes and offers authentic regional culture. Wake up in Rennes, have breakfast at your homestay, and take classes at the Centre International Rennais d'Etude du Francais pour Etrangers (CIREFE) at Université Rennes II with students from around the world. You can also earn credits teaching English as a foreign language in Rennes' primary, middle, or high school. Courses are complemented with CIEE co-curricular activities and excursions beyond the city to enhance classroom learning and provide greater intercultural understanding.
With its population of 60,000 students, Rennes is a perfect setting for study in France. Just an hour and a half west of Paris by train, and 55 minutes from the sea, Rennes is the capital of Brittany. Economically very dynamic, the city is known as a center for technology, and is consistently rated as one of the best places to live in France. The city offers an excellent variety of cultural events and provides study abroad students the opportunity to learn the distinct Celtic traditions particular to this region of France.
For more program information, please visit the
program website
. This program is sponsored by:
CIEE
.