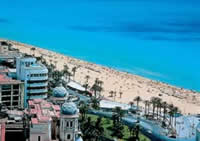 Returning Summer 2024!

CIEE offers undergraduates with an interest in Spanish language and contemporary Spain intensive study of the cultue and language. Classes are held at the Universidad de Alicante, one of Spain's newest universities, located three miles outside the city of Alicante. The CIEE Study Center offices are located on the main campus in San Vicente and provide students direct access to University facilities.
With a population approaching 350,000, Alicante is a thriving Spanish city. Located on the Mediterranean coast, Alicante is an inviting place for students to begin their exploration of Spain or continue a previous journey. In recent times, Alicante has experienced a development boom and rapid population growth. Students will see modern architecture and Internet cafés alongside historic buildings, and shopping malls next to centuries-old open-air markets. Although fast becoming a cosmopolitan and multicultural city, Alicante retains a distinct Spanish flavor.
For more program information, please visit the
program website
. This program is sponsored by:
CIEE
.