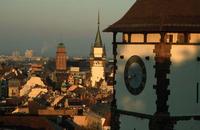 Tucked at the foot of the Black Forest, Freiburg is the quintessential southern German town, with its winding streets and historic architecture. It is also home to the Albert- Ludwigs-Universität Freiburg, consistently rated one of the top universities in Germany. We invite you to study abroad in Freiburg, and to immerse yourself in student life and German language in this vibrant university town.
Ideal for students interested in rapidly improving their German language skills, the Language & Area Studies Program offers you IES Abroad and university courses taught in German by distinguished local faculty. You can also participate in an internship, which includes time spent working at your placement and an academic seminar that helps you contextualize what you're learning.
You can also enroll in courses at the Albert-Ludwigs-Universität Freiburg or other local academic institutions where you can experience the German education system firsthand. Study International Education at Pädagogische Hochschule Freiburg or perform with ensembles at the Hochschule für Kunst, Design und Populäre Musik. And you can participate in our language partner program to practice your German. Maybe you'll even make some German friends while you're at it!
Internships are available; please see the IES website for more information.
For more program information, please visit the
program website
. This program is sponsored by:
IES
.