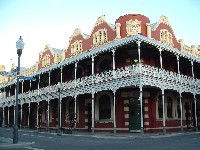 The University of Notre Dame is located in the historic west end of Fremantle, the main port city of Western Australia, 12 miles from Perth. It is a "town" university and the only one of its type in Australia. Present and past merge into a rich mix of cultures and traditions, typical of the older university towns of Europe. Students enjoy an ideal location for study and recreation. A vast array of cafés and restaurants, specializing in all styles of cuisine, as well as a beache are within a 5-minute walk of the campus. An efficient suburban rail service connects Fremantle to central Perth, just 20 minutes away.
Notre Dame is a private Catholic university committed to ensuring that students receive a personalized, high quality education. It offers a caring and friendly learning environment, providing courses that are challenging, relevant and responsive to student, employer and community needs. The University is noted for its excellent professional training in such areas as accounting, communications, counseling, electronic commerce, environmental management, law, nursing and teaching.
The University attracts students from a range of cultural and religious backgrounds, which produces an exciting and vital atmosphere on campus. It is a university that offers a personal approach to teaching, with small classes and individual support.
For more program information, please visit the
program website
.