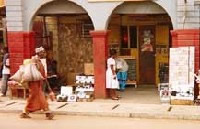 Immerse yourself in Ghanaian life by enrolling in courses with local and international students at CIEE's partner school, University of Ghana – ranked 7th best university in Africa. Students can take a full course load at University of Ghana or combine courses with CIEE electives, including options for internships. All courses are complemented with CIEE co-curricular activities and excursions beyond the city to enhance classroom learning and provide intercultural understanding.
CIEE Ghana is designed for students interested in the political and economic challenges of sub-Saharan Africa as well as West African cultural practices. It offers opportunities for students interested in public health, development, African history and culture to contribute to the intellectual, cultural, economic and social life of Ghana.

The CIEE study center is located in Legon, approximately ten miles outside Accra, which is the capital of Ghana. Because of their close proximity to Accra, participants have access to the advantages of a large urban metropolis while living in a relatively underdeveloped environment. The residents of Ghana are noticeably friendly, which allows students to learn about the complexities of the nations on the African continent.
Round out your program with opportunities to do an internship, community service or volunteering.

For more program information, please visit the
program website
. This program is sponsored by:
CIEE
.