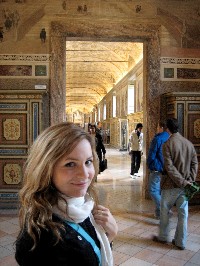 Walking in Rome is a constant voyage of discovery. Where else can you find ancient fountains a step away from Visigothic churches and Renaissance palaces? The Colosseum, Pantheon, Catacombs, Castello Sant' Angelo, St. Peter's, and the Sistine Chapel are just a few of Rome's treasures awaiting you.
IES Rome offers two summer options - Language & Area Studies or Fashion Studies.

The IES Rome Language & Area Studies Summer program is designed primarily for students with little or no Italian who are interested in studying Italian Language, Art History, Political Science or Cultural Studies in an Italian atmosphere in Rome. The program offers beginning and intermediate language courses designed to give you the opportunity to begin Italian language studies or improve existing Italian language skills, while immersing yourself in Italian culture and civilization. This program does not offer advanced Italian.

The IES Rome Fashion Studies Summer program is designed for students who want to explore fashion design and production in one of the world's top fashion cities.

For more program information, please visit the
program website
. This program is sponsored by:
IES
.