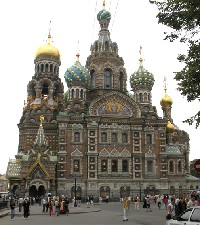 Students interested in studying Russian language abroad should refer to the CIEE-Tallinn program in Estonia.

Built by Peter the Great using architects from France and Italy, St. Petersburg contains palaces filled with art collections, landscaped parks and numerous venues for concerts, opera, theatre and ballet. Today the city's five million people are coping with the challenges of a new political and economic system.


The CIEE study center is located at the Center for Russian Language and Culture of St. Petersburg State University. Founded in the 18th century, St. Petersburg State University is one of Russia's leading institutions of higher learning. The University's 16 departments provide instruction for more than 20,000 students. The campus has expanded from its original site on the Neva River, and now includes over 400 buildings around the city center and the suburb of Peterhoff. CIEE students study at the University''s Smolny campus, in a quiet neighborhood on the east side of downtown St. Petersburg.
CIEE offers two program options in St. Petersburg:
For more program information, please visit the
program sponsor's website
(CIEE).