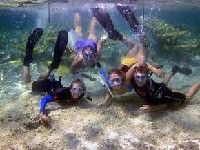 The British-governed Turks and Caicos Islands (TCI) lie at the southeastern end of the Bahamian archipelago. The turquoise waters surrounding the TCI are abundant with marine life and are considered to be among the world's top 10 diving locations. Nearly 50 species of corals as well as spotted eagle rays, sea turtles, sharks, groupers, snappers and dolphin fish, are easily spotted in the clear, warm waters just steps from the SFS field station.
This relatively intact and healthy ecosystem supports much of the community on South Caicos Island with fisheries providing the primary source of livelihood. However, pollution and over harvesting of precious marine resources, coupled with unsustainable tourism and industrial development, may soon do irreparable damage to this delicate ecosystem. Depletion of key resources would have a dramatic impact on employment and social structure on South Caicos Island; therefore developing sustainable fishery is essential if this resource-dependent community is to survive.
This summer program offers two four-week, four-credit courses that may be taken individually or back-to-back:
Session 1: Fundamentals of Marine Conservation (June-July)
Dive under the waves and study marine conservation. On the island of South Caicos, spectacular reefs and turquoise waters serve as laboratories for field lectures and underwater expeditions. Snorkel and dive among these incredible marine ecosystems, learn about the environmental issues and policies affecting them, and gain the skills needed to conduct research in collaboration with members of the community.

Students collect data on the distribution, size and age structure of the queen conch, a species critical to the local economy and a national symbol of the Islands. PADI SCUBA certifications are available on this program.
Session II: Marine Megafauna (July-August)
The ocean is your classroom. Study sharks, whales, turtles, and rays in the waters surrounding South Caicos. Learn about the ecology and conservation of these and other 'marine megafauna' through field lectures, snorkel and/or dive sessions, and capture-tag-track exercises.
Students deploy Baited Remote Underwater Video Stations (BRUVS) and collect video footage of sharks to analyze species abundance and diversity inside and outside protected areas. PADI SCUBA certifications are available on this program.
For more program information, please visit the
program website
. This program is sponsored by:
School for Field Studies
.