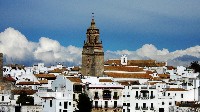 Students applying for semester programs in Spain must have a valid, usable passport at the time of application. Passport must be valid for 6 months after the program end date.
ATTENTION: CIEE will be providing an automatic Trailblazer travel grant toward airfare expenses of up to $1,500 to any Purdue student who participates in this spring or fall 2024 program!
With a historic cultural heritage dating back thousands of years, Alicante is one of Spain's booming port cities best known for its miles-long beaches, award-winning museums, and beautiful year-round weather. The city's most iconic landmark, the medieval Castle of Santa Barbara, keeps watch over all of Alicante from its central location atop Mount Benacantil.

A mid-sized city on the Mediterranean coast, Alicante is a thriving cosmopolitan city with multinational corporate headquarters and a developing service industry. Dominating the skyline is the castle of Santa Barbara, an ever-present reminder of the city's ancient Moorish roots. Below are the narrow, winding streets of the historic Santa Cruz district.
Considered one of the safest cities in Europe, Alicante is an excellent place to take your studies. From its large student population to its reliable public transportation network, first-class educational opportunities, green parks, and café culture, this budget-friendly city is the perfect place to live and learn abroad.
The CIEE study center is located at the Universidad de Alicante, one of Spain's newest universities. Established to serve the higher education needs of the province of Alicante, the university offers its 30,000 students the benefits of a modern campus: the most up-to-date research libraries and laboratories, venues for artistic and cultural events and extensive sports facilities.

For more program information, please visit the
program website
. This program is sponsored by:
CIEE
.