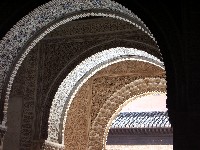 Students applying for programs in Spain must have a valid, usable passport at the time of application. Passport must be valid for 12 months after the program end date.

Take your Spanish language skills to the next level while studying economics and business management and/or gaining real-world work experience with an internship. Choose from coursework in English at CIEE Seville and our partner institutions, University of Seville and University of Pablo de Olavide (UPO). Business and Society courses are held at the University of Seville School of Economics and Business, just a quick walk from CIEE Seville, which is located in the heart of Seville, close to the Royal Alcazar palace.
Prior to starting classes, students take a two-week Spanish language course based on their appropriate skill level and agree to speak only Spanish to facilitate language and cultural acquisition. All courses are complemented with CIEE co-curricular activities and excursions beyond the city to enhance classroom learning and provide intercultural understanding.

Seville is the political, religious, cultural and intellectual capital of Andalucia. The city's cathedral and the royal Alcazar Palace, located in the historic city center, exhibit the influences of the Muslim, Jewish and Christian cultures that flourished in Seville until the late 15th century. Ferdinand and Isabella sent Columbus, Magellan and Vespucci to the new world from the banks of the Guadalquivir River.

Students can also gain practical work experience through internships. Eligibility for the internships is determined by the student's language ability, job skills, background and professional attitude. In the past students have been placed with organizations such as Xerox, DHL, AT&T, American Express and Vodaphone.


For more program information, please visit the
program website
. This program is sponsored by:
CIEE
.