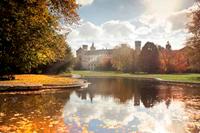 Before applying, students interested in this program should discuss their plans with the Study Abroad Liaison in the College of Engineering or the College of Science depending on their major area of study.
After their Purdue Study Abroad applications are approved, participants also need to apply directly to Leibniz University Hannover by February 1. Try to complete your Purdue application early - the sooner, the better!

The Leibniz University Hannover- Summer Science and Engineering Projects program allows Purdue engineering and science majors to carry out research internships under the direction of local faculty members. Leibniz University Hannover is a member of the TU9, an association of the leading technical universities in Germany.
No knowledge of German is required for participation, as the program is conducted entirely in English. However, for those looking to develop their language skills, Hannover's dialect is considered especially learner-friendly. Hannover is the capital of Niedersachsen (Lower Saxony) and the political and cultural center of the region. Known as a "Green City" and "City of Short Distances," Hannover a great home base for students to explore near and far in their free time.

For more program information, please visit the
program website
.