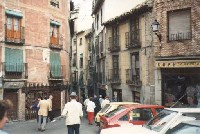 This program is offered in collaboration with the prestigious José Ortega y Gasset Foundation and the University of Minnesota. Three one-day excursions are included in the program fee. Visits are made to such sites as Madrid, Aranjuez, Cuenca, the grand El Escorial, Segovia, and the Route of Don Quixote. All trips are led by faculty who specialize in the respective areas.
Toledo, Spain, is about one hour south of Madrid and is home to about 50,000 people. For more than 2,000 years it has housed a succession of Roman, Jewish, Visigoth, Moorish, and Christian civilizations. Declared a World Heritage Site by the United Nations, Toledo is a living museum, a preserved part of Spanish history where people still live, work, and play.
For more program information, please visit the
program website
. This program is sponsored by:
University of Minnesota
.