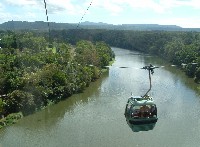 While representing only a small percentage of the world's rainforest, the astonishing biodiversity of Australia's rainforest and the country's dynamic conservation efforts make Queensland an extraordinary laboratory for studying rainforest management and restoration. Recent cyclones have further damaged the remaining rainforest fragments, raising questions on how to manage these hyper-disturbed areas. Conservation challenges and cutting-edge management strategies developed here will likely serve as a model for conserving the rest of the world's tropical rainforests. The ecological and economic benefits of rainforests are increasingly well-understood, but much less is known about rainforest ecosystem dynamics and the ability to restore a rainforest once it has been cleared. The goals are to help understand the dynamics of rainforest ecosystems, including potential impacts of global climate change, and in turn develop rainforest restoration strategies that benefit both ecosystems and human communities.
Student research work addresses a critical local and regional environmental problem — loss and fragmentation of once extensive rainforests, and the environmental policies that are currently under consideration by the local and Commonwealth governments. SFS staff and students, in collaboration with local landholders and stakeholder organizations, focus on enhancing the condition of tropical rainforests, as well as determining how we should regenerate and restore the rainforest on the Atherton Tablelands.
Students learn professional field research techniques as they collect data on potential responses to global climate change, habitat use and animal behaviors, resilience to cyclonic events, land-use, local resident involvement in restoration projects, and cost effective and ecologically beneficial methods of restoration. Student work represents a vital contribution toward larger studies on global climate change, biological integrity of rainforest fragments, and developing restoration practices to maximize rates of plant growth and colonization by fauna. Students are actively involved in either rainforest replanting or site maintenance with local landcare groups.
For more program information, please visit the
program website
. This program is sponsored by:
School for Field Studies
.