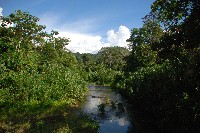 Go off the beaten path and experience sustainability in action.
Spend a semester in Costa Rica, home to rainforests, volcanoes, rushing waterfalls, and a laid-back culture that reflects the national motto: "Pura Vida." Immerse yourself in the country's many national parks, farms, and tropical ecosystems full of incredible biodiversity. Design and conduct a rigorous field research project and learn how Costa Ricans are creatively addressing conservation and development issues.
Explore the cloud forests of Monteverde, home to 2.5% of the world's biodiversity, to study tropical ecology and sustainable land management
Take a week-long expedition to Panama's Chiriquí Highlands, a lush, forested region of volcanic peaks, integrated coffee farms, rich Nbäge-Buglé culture, and perpetual spring-like weather
Go behind the scenes at a local coffee farm and sustainable permaculture homestead to learn how Costa Ricans have successfully combined agriculture and conservation
Conduct a comprehensive field research project: Develop a research question, collect and analyze data, write a paper, and present your findings.
You will gain practical skills in the field such as: GIS use and applications, species identification, habitat and biodiversity assessment, forest soundscape techniques, songbird mist-netting, tourism impact assessment methods, basic Spanish language skills, research design and implementation, quantitative and qualitative data collection and analysis, and research presentation.
For more program information, please visit the
program website
. This program is sponsored by:
School for Field Studies
.