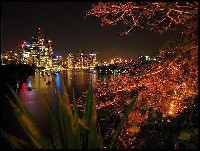 Brisbane is the capital of Queensland, Australia's "Smart State," and is widely known as the country's most livable city. It is also Australia's fastest-growing capital with a population of more than 1.8 million and offers a safe, friendly, multicultural environment.
The inner city is characterized by the Brisbane River, parklands, convention facilities, museums, art galleries, a casino, malls, shopping districts and a host of cosmopolitan restaurants and cafés. The golden beaches and fun parks of the Gold Coast are just an hour's drive south. The beautiful Sunshine Coast beaches lie a short drive to the north, along with National Parks, rainforests, and attractions such as Australia Zoo.
The University of Queensland was established in 1909 and was the first university in Queensland and the fifth in Australia. Its St. Lucia campus, located seven kilometers from the heart of Brisbane in a bend of the Brisbane River, is considered by many to be Australia's most attractive.
UQ is a member of Australia's prestigious Group of Eight leading research universities.

For more program information, please visit the
program website
.