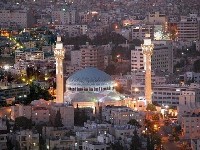 Put your learning of Arabic on fast-forward in the heart of Amman's traditional Eastern district. In a city where spectacular Roman ruins share the landscape with Westernized districts dotted with cafes and galleries, students will build on coursework by conversing in homes, workplaces, and among new friends, increasing your understanding of Jordanian society day by day. From the maze-like downtown to the many exotic souks, minarets, mosques, and coffeehouses, students will get a complete Middle Eastern experience in this unforgettable summer.
Despite its famous ruins, the capital of Jordan has plenty of cosmopolitan character. One minute you're atop the highest of Amman's seven foremost hills, where the ancient Citadel gives spectacular views all around – and a fascinating look back to Bronze Age. Later the same day, you're window shopping on trendy Rainbow Street after a tasty meal at a restaurant with sidewalk tables. Wherever you are, you'll see why Amman has a well-earned reputation for hospitality.

For more program information, please visit the
program website
. This program is sponsored by:
CIEE
.