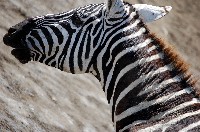 In Kenya, the survival of human and wildlife populations alike hinges on the availability of water and other critical resources.
Spend your semester in the world-famous national parks and stunning landscapes of Kenya, studying the country's diverse wildlife – from colossal elephants to the endangered black rhinoceros – and approaches to conservation. Here, in the heart of the Great Rift Valley, climate change and land use changes are negatively affecting Kenya's ecosystems and those living in them. Research the root causes of these changes and how different conservation strategies can benefit both humans and wildlife.
On a multi-day camping trip, explore Amboseli National Park – widely regarded as the best place in the world to get close to free-ranging elephants
Spend two weeks in Tanzania, with expeditions to Serengeti National Park, Tarangire and Lake Manyara National Parks, and the Ngorongoro Conservation Area
Spend the day with a local Maasai family and learn about their culture, history, daily life, and relationship with nature
Conduct a comprehensive field research project: Develop a research question, collect and analyze data, write a paper, and present your findings.
For more program information, please visit the
program website
. This program is sponsored by:
School for Field Studies
.