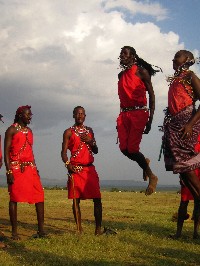 Step beyond the tourist experience in East Africa.
Explore the iconic landscapes of Tanzania. Meet the country's charismatic wildlife – from magnificent lions and elephants to thunderous herds of wildebeest and zebras – as you learn about their ecology and behavior. Experience the rich culture and traditions of Tanzania's Maasai, Iraqw, and Hadzabe tribal communities while collaborating on issues of human-wildlife conflict and climate change. Finish the semester with an in-depth field research project.
Embark on a multi-day camping expedition in Serengeti National Park, attending field lectures on the behavior and migratory patterns of the park's magnificent wildlife
Learn about elephant and lion ecology in Tarangire National Park and visit Burunge Wildlife Management Area to learn about community-based conservation
Spend two weeks in southern Kenya, with expeditions to Amboseli National Park, Tsavo Conservation Area, and the Ngulia Rhino Sanctuary
Conduct a comprehensive field research project: Develop a research question, collect and analyze data, write a paper, and present your findings.
For more program information, please visit the
program website
. This program is sponsored by:
School for Field Studies
.